VIN WIKI - USEFUL INFORMATIONS
Want to know your Bimmer or Worker inside out? Interested in having a full list of history of your vehicle ?

There's a lot more that goes into understanding your vehicle. That seemingly random string of numbers printed on your Bimmer's dash or on the driver's side door jamb is more important than you think. Each of the 17 digits actually tells you something specific about your car, from when and where it was built to its feature-set. You can even use it on certain motor vehicle registries to find out whether the car is considered a salvage (repaired after a major wreck) or is listed as stolen. All essential information if you are buying a pre-owned or used car, simply want to do some comparison shopping, or wish to find the right upgrades or parts for your own car.
WHY DO I NEED TO KNOW MY BIMMER'S VIN?
As every vehicle has a unique identification number, knowing a Bimmer's VIN can be a quick and reliable way of finding out more about the car and its past.
Checking Bimmer service history
Before buying a used vehicle, it's normal to expect to see a record of the maintenance work done on the car through the years. The owner may be able to present a stack of paperwork detailing every service, but it isn't uncommon for these kinds of records to get lost.

Fortunately, whenever a vehicle is serviced by a technician, a computerized record of the work done is kept, including any parts replaced and the vehicle's mileage. This information is all associated with the vehicle's VIN, giving future mechanics an easy way to get an overview of all the work that's already been done, without having to guess at how long the timing belt looks like it's been in the car.

CheckVIN allow individuals to use a VIN to access all this information themselves, helping anybody shopping on the second-hand market get a clear idea of how well the vehicle has been maintained. Seeing where the services were performed will also reveal where the car has spent most of its life — potentially vital with older vehicles, when the effects of climate become more pronounced. Some providers may even be able to offer more information, including any insurance claims or theft reports in the car's history.
Tracking a new Bimmer or Worker from production to delivery
Having a custom car built to your specifications is exciting, but there's a longer wait than taking whatever the dealer has on the lot. If you've ordered a new car from factory, your dealer should be able to give you the VIN of your future Bimmer before production has even started. With this information, it's possible to track your car from the factory to your local dealership.

Bimmer's records for each vehicle are updated as soon as the car enters production. You'll then be able to see the production date, and know that your car is getting closer. If you're feeling impatient, VINs usually come in order; XXXXX75 will be produced before XXXXX76, and after XXXXX74. Looking up the VINs of vehicles you expect to be built just before your vehicle should give you an idea of how long you have left to wait.

After production is complete, it may even be possible to track your vehicle on its way from the factory to your local dealership. Cars sent in freight generally use the VIN number to identify the cargo, so checking the shipping company's freight records may give you an idea of when it's due to arrive.
Finding aftermarket parts for your Bimmer by VIN
Many replacement Bimmer parts or retrofits are designed with a specific vehicle in mind, and rely on a specific factory configuration that may differ from car to car, even in the same model family. This is particularly important when it comes to technology and software retrofits, which must be adapted to your exact vehicle's hardware in order to work.
Where can I find my Bimmer's VIN?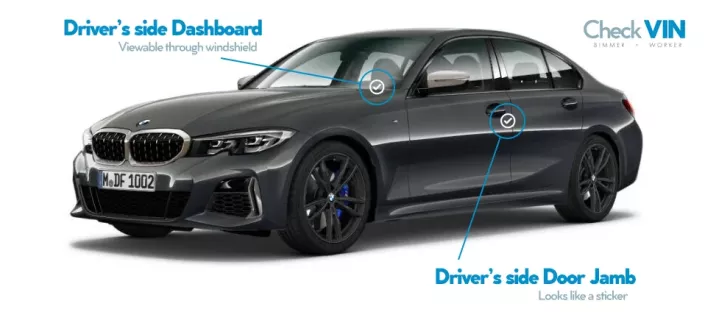 Your Bimmer's VIN can be found printed on your vehicle. The most common locations are on the inside frame or jamb of the driver-side front door, or on the dashboard near the base of the windscreen on the driver's side. To make identifying a VIN easier, remember that a valid VIN consists of exactly 17 letters and numbers.

If you can't find your VIN on your vehicle or some of the characters aren't clear, you should be able to find your VIN on your vehicle's registration or insurance documents. You can confirm your VIN by checking it online and comparing the returned information to what you know about your vehicle.

To reduce the risk of confusion, VINs never include the letters I/i, O/o and Q/q, which can easily be mistaken for the numbers 1 and 0. If you're having trouble decoding your VIN, double-check that you haven't misread any of the characters.
VIN number breakdown — what does the VIN mean?
Before checking your VIN, it might help to brush up on the VIN decoding system so you can understand what all those digits mean. This is just a general guide, because while the U.S., most of Europe, and some other countries all try to follow the same VIN format, there may be some differences depending on where you live. If you want more details, Wikipedia has them here.

Digits 1-3: These usually tell you where the car was assembled, the manufacturer, and the vehicle type.
Digits 4-8: These describe your particular vehicle, like its model, body style, engine type, and transmission.
Digit 9: This is the check digit, used simply to tell whether there is an error in the VIN, like if you input it incorrectly.
Digits 10-11: Used to tell the year and the factory where it was assembled.
Digits 12-17: Typically these make up the factory's production sequence number, which identify the vehicle itself as a unique product.
As digits 10-11 are unique to each factory, and digits 12-17 will never be repeated by the same factory, the last seven digits of a VIN are enough to uniquely identify a Bimmer.